April ought to be when spring really sets in, and it sort of has… Cooler days have remained but everything is getting greener and greener. I'm grateful for the cool nights, because I sleep so much better when I'm not too warm.
This month was busy, especially at the end. I helped out at the elementary school carnival and joined a second Saturday TTRPG campaign.
My nana passed away on April 29, which wasn't unexpected due to her age and illness. She was 93, and had Covid pneumonia. My mom was incredible about contacting everyone, facilitating phone calls with Nana while she was hospitalized, and keeping us updated on her condition. Everything happened very quickly and, to agree with my mom, I am at peace with this.
Reading
I read A River Enchanted by Rebecca Ross and had high hopes for it. The story had a lot of potential and I enjoyed the main character. Or who I thought would be the main character. Unfortunately, there was constant head hopping, which was distracting and made it a frustrating read. There will probably be a sequel, but I won't be reading it.
The Grace of Wild Things by Heather Fawcett was a super cute and cozy middle grade story about an orphan girl who also happens to be a witch. Be warned that it is an obvious and blatant rewrite of Anne of Green Gables. However, I still found it well worth reading.
I finally finished Howl's Moving Castle by Diana Wynne Jones. I definitely prefer the movie version, as the book is a slow-paced and muddled attempt at a whimsical, slightly romantic adventure. There are more books in the series, but I won't be reading them.
Last, but not least, I read Flowerheart by Catherine Bakewell. This is a cute YA novel about a girl whose witchcraft doesn't listen to her. I wanted more from the story on certain plot points, because I really enjoyed it. Because of what it left hanging – and how quickly things were wrapped up – it felt unfinished, in a way. Almost like a first draft. Maybe the author will write a sequel and elaborate on those points in the future. I've got my fingers crossed for one.
Cross-stitching
In April, I finished Tequila by Stitchrovia and I think it is gorgeous! I highly recommend her patterns, because they are beautiful. Most of her patterns are elaborate word art, and the kinds of stitches that give you a sense of accomplishment very quickly. This was a gift for someone who has a bright, vibrant, fun personality. I just knew when I saw the pattern that it fit her.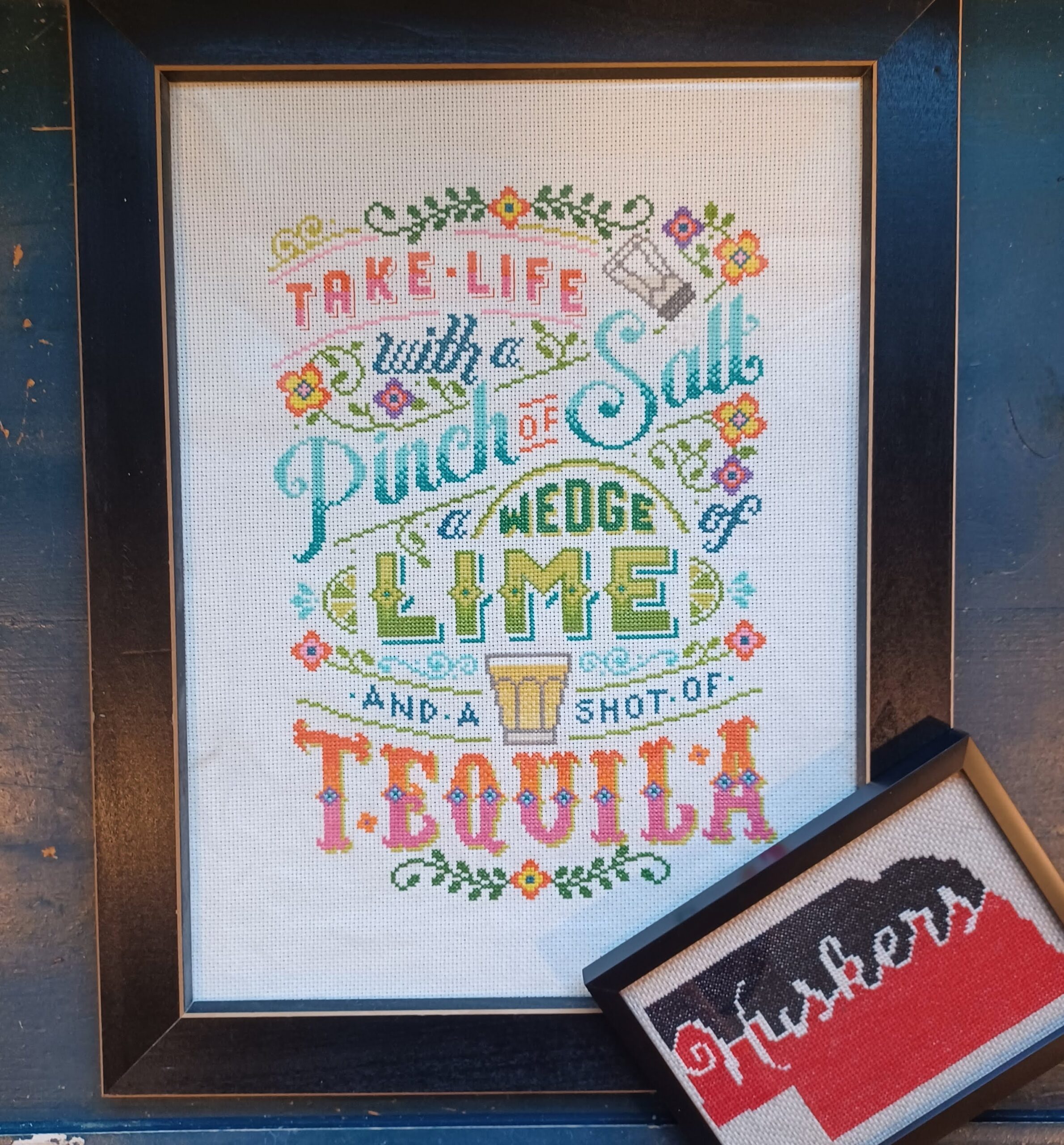 I am now working on a trio of landscapes that I would like to hang in my living room.
Gaming
My D&D 5e campaign has arrived on another continent. The characters are delving a little bit into one's past and family (and, of course, issues), as well as the politics of his homeland and the overarching concerns about the entire world. I'm looking forward to the next session or two, and seeing how things pan out for them as some threads continue and they pick up others.
We also started a campaign using the Genesys system. It's fun to play a character again, but having two games – one in the morning and one in the evening – makes for busy Saturdays.
Watching
Critical Role has been pretty interesting since the Solstice episode, with the party split. I really love seeing Aabria Iyengar in the cast. She's someone I feel like I would enjoy hanging out with, ya know?
I also finally decided to watch The Crown, which I started years ago but didn't stay interested enough in to even finish the first episode at the time. Of course, it's highly fictionalized. We don't know what happens behind closed palace doors. But, whatever the show is doing for me, that's the vibe I seem to be into right now.
My son also really wanted me to see The Greatest Showman, so we watched it together. What a fun, triumphant movie. I've been listening to the soundtrack nearly every day since, except this past weekend (nothing about my nana's passing made me want to burst out into song, which I'm sure is understandable). I would definitely watch it again.
Exploring
April was the only month, so far, that we didn't go anywhere out of the ordinary. Our Spiral Scouts circle had a field trip to Morrill Hall planned, but we decided not to join them for that since the 4th Grade field trip is also going there. This was fine with me, because some of my weekends seemed so packed with gaming or running Rowan to and/or picking her up from a friend's house, that I was perfectly content to relax on the sofa with cross-stitching and The Crown as often as possible.
All in all, the month was good until the end. Saying goodbye to Nana was the hardest thing I've done in a long time. One of the last things I told her was that she has always been an important person in my life. She is the one who taught me to cross-stitch and I like to think that means I'm carrying something even more significant than her DNA with me.