"I want a bird," you might say. Or think. Or you might go out and get one. And, for the most part, people imagine a pet bird as a tiny yellow canary, sitting in a cage, chirping quietly or not at all. Or maybe a parakeet that's just cute and sweet, and the perfect accessory. However, the reality of owning a bird is very different than the imagined dream.
First of all, there's a lot of information out there about which birds are "best for beginners" or most affectionate or least noisy or less likely to make a huge mess. The truth is, these ideas aren't applicable in every situation. In fact, the most you can generalize about owning a bird is as follows:
They are messy.
They are noisy.
They aren't cuddly.
They are also expensive.
They're probably going to outlive you, especially if they're a larger parrot.
Their care takes more research and education than a dog or cat ever will, so you're better off with a dog or cat. Really.
And these generalizations are going to vary from bird to bird and person to person. If I'm starting off sounding negative, it's because the cold, hard truth about birds is that they aren't easy to have in your home. It's like having a 3 to 7-year-old that never grows up, never leaves, never goes off to start their own life without relying on you (and even some humans don't do that!). However, if you want one, here's a glimpse into our feathered family and how we got here.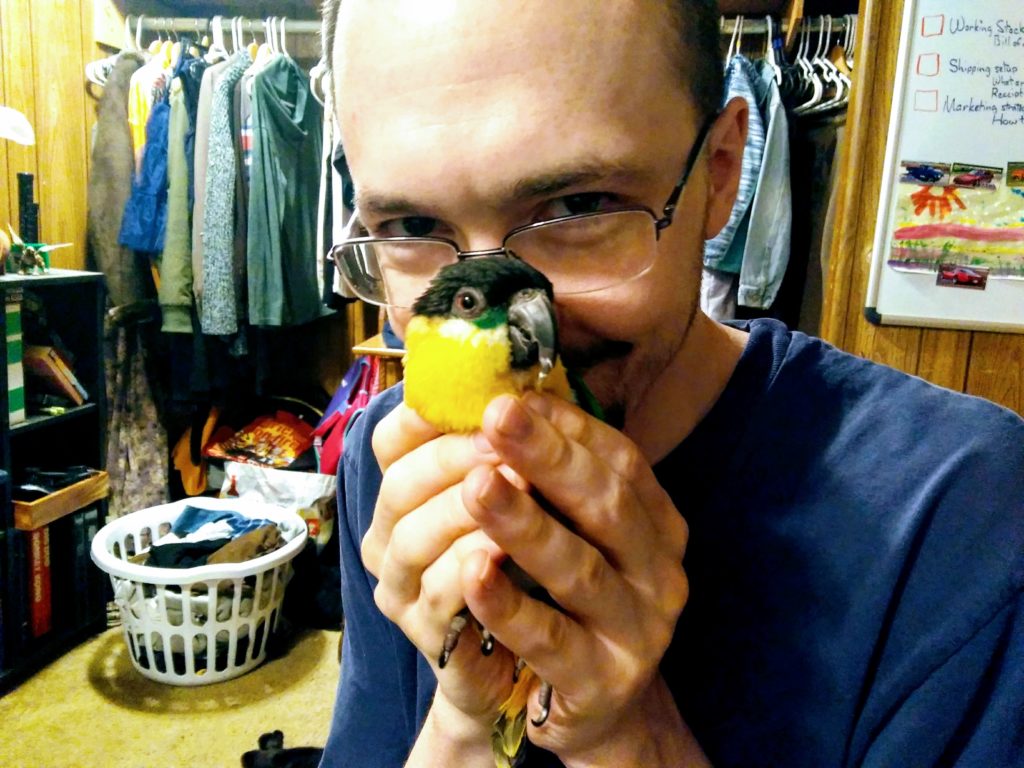 Our First Bird
We started off with bird ownership because they're, like, soooo cute! Okay, that wasn't the only reason my husband practically begged me to go to a bird breeder when we lived in England. But what were the reasons for bird ownership, really, and were we ready? My husband knew more about birds than me. Just as some people are dog lovers or cat lovers or horse lovers or snake lovers, or whatever, he was a bird lover. I wasn't sure about having a bird in a house with cats… or at all. So I did the same thing I did when I was expecting my first child: I researched the heck out of having a parrot. Especially because our first bird was going to be one that was considered not a beginner's bird – a black-headed caique.
Here's what I learned from countless books, websites, and forums – as with children, nothing will be the way you expect. This bird is going to come to you with pretty high-level intelligence, and the ability to both melt your heart and surprise you every single day.
We picked up Avery in a small English town right before Daniel had to go TDY at the time. That meant I was left all alone to care for a new bird with only recently-acquired knowledge, while the bird-lover who'd been into the idea of owning a parrot for at least several years was gone!
Avery and I became the absolute best of friends. He melted my heart from the moment he first fell asleep on me. Black-headed caiques are, as we would say back home in Massachusetts, wicked smaht, and he caught on fast with potty training. He was also a snugglebug (something I didn't expect), talked to me while I showered if I let him come in the bathroom with me, and basically turned me into the bird mom I've become today.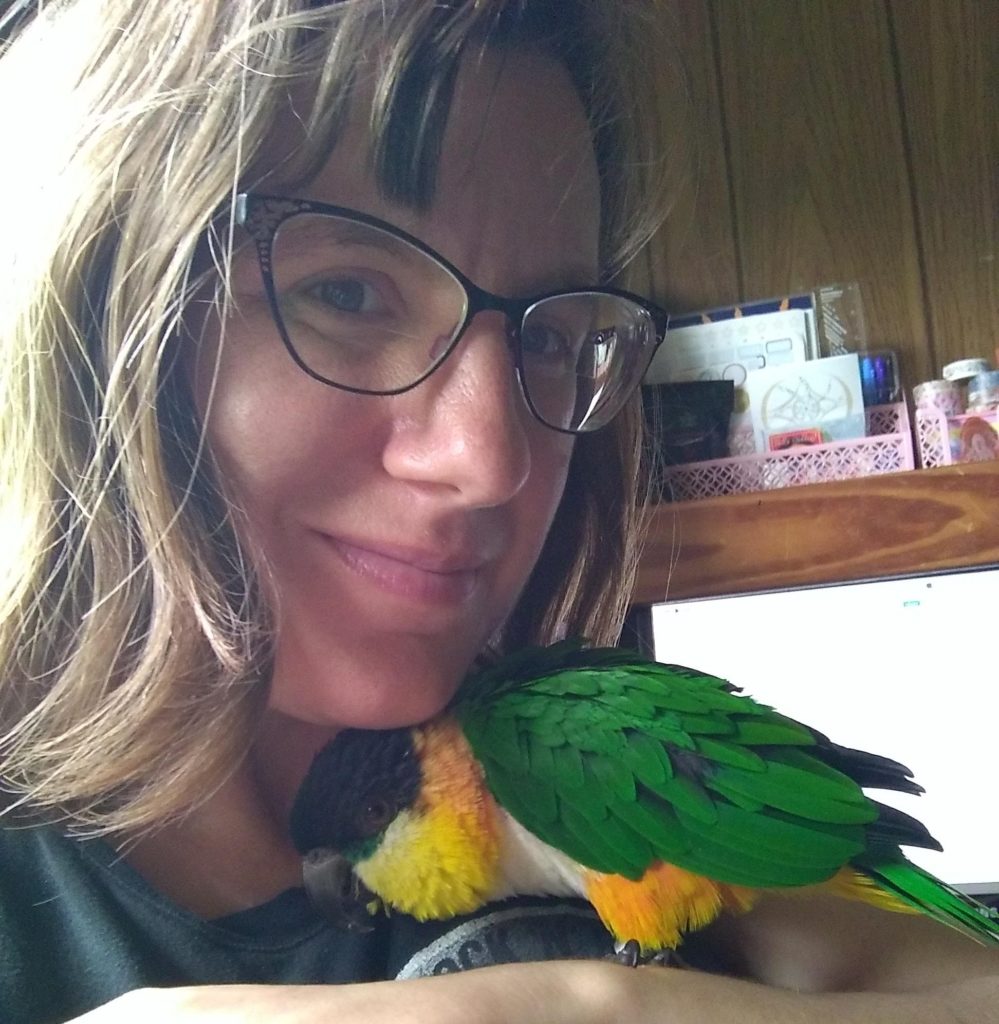 He is now 9 years old, a sweetheart some days, a holy terror other days. If his hormones are surging, he thinks I'm his girlfriend and my husband is the enemy. If he's feeling content, he'll fall asleep nestled down on my chest or in the crook of my neck. He says his own name and "Step up." He growls if he spots danger… or if he thinks you're coming too close while he's nibbling on a walnut. He's smart enough to know what's right and what's wrong, but just as his intelligence is on par with a 3-year-old toddler's, so is his self-control!
And I wouldn't have it any other way. For me, birds are superior to dogs (though I'm still a cat person, as my head-butting, scritch-demanding, terrified-of-the-parrots felines can attest). I don't have to go outside to clean up the birds' poop. In fact, we don't have to set foot outside on cold days for any of their needs. Warm days are another matter, in which case they get to spend the majority of the day outside, soaking up the sun!
Also, unlike dogs, birds don't smell bad. Avery smells like wet cardboard, which is the telltale sign of a healthy caique who eats a good diet. They fly around the house freely, but trust me – there's no pooping on your head mid-flight. Or at all if you've potty-trained your parrots.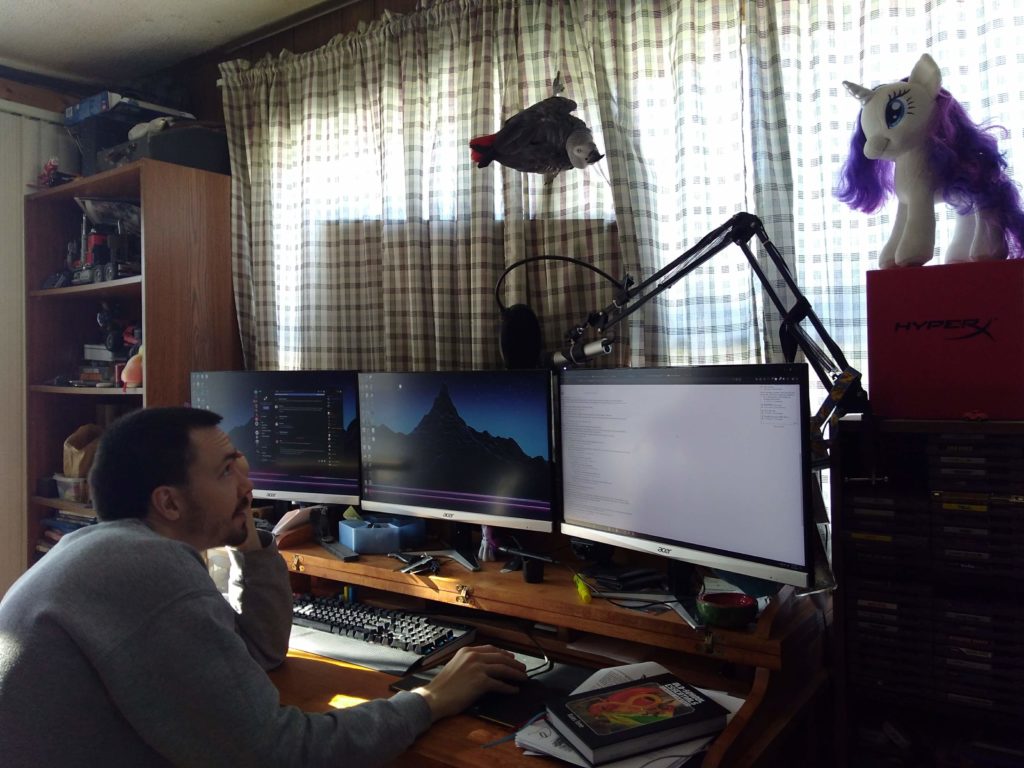 Our Second Bird
In the summer of 2019, a friend reached out and let us know she was looking to downsize her flock. This is how Apollo, an approximately 12-year-old Congo African Grey came to us. I had no intention of buying another bird in the near future, but maybe to foster or adopt one after we finished renovating our home. I also had no intention if that bird being larger than Avery. Daniel said time and again that he wanted an African Grey, but I thought they were immense, like larger Macaw breeds.
However, just as Avery turned me into a bird mom, Apollo has me saying, "Hey, how about a Macaw in a few years?" Because this new addition to our family has also brought many lovely surprises.
Here's another thing: if you aren't ready to stand still and be calm when you hear the sound of flapping wings, you aren't ready for a bird. Avery's flight is more of a rapid flutter and he can almost hover like a hummingbird, but Apollo sounds like a helicopter! His body size is roughly equivalent to some of the smaller hawks out there.
When Apollo first came to us, he was an uncertain flyer. Now, he gets the zoomies on a regular basis. And when you have an almost 1-pound feathered missile darting around your home, you might want to duck for cover! But that's something you absolutely cannot do, because a parrot is smart enough to look for the safest perch. That just might be you, so this is your second reminder that being able to stay calm when something is flying around or at you is important. If the very idea of a bird flying toward you terrifies you, you are probably better off with four-legged family members.
Parrots pick up many of their emotional cues from their environment. A calm, stable environment, with a steady routine of feeding, play time, flying time, and alone time (yes, even parrots need quiet and time to themselves) is important.
As with human toddlers, a bored parrot is often a loud and/or destructive parrot. An unsocialized parrot can become a sad or even spiteful one. And while you might think flighting a parrot (clipping their wings) is going to help them "behave," it's no more humane than declawing a cat. I'm going to put this bluntly: If you have to physically alter an animal to fit your personal preferences, you shouldn't own an animal.
Having parrots is a lot like having children. They're unique. They're individuals. They have distinct personalities, likes and dislikes. They need to have some control or they're going to give you a hard time. They need choices and options, and also the ability and freedom to refuse you. If they don't want to be with you, they should be able to fly away from you. If they won't eat their broccoli, you need to be open to trying different greens with them, because a well-balanced diet includes fruits, veggies, and pellets, with fatty treats like nuts and seeds kept to a minimum, and used for training or as special rewards.
Keep in mind these birds have cognitive ability ranging from that of a human toddler (a parakeet or caique, or other small parrot) to that of a kindergartner or first grader (an African Grey). Yes, a first grader. And that's only based on what little we know about bird and parrot behavior.
Oh, and let's not forget about those long life spans. When we get a dog or a cat, we figure on about twelve to twenty years with them. Even now, I joke that my eldest cat is an "old man" because he's thirteen. But Apollo is also roughly thirteen or so… and this is barely a quarter of his life. Since I'm forty-five and he's thirteen or maybe fourteen, a calculation of "possible years left" basically shows that either of us could outlive the other. And that's not taking into consideration something happening to me or my husband sooner. Who gets the bird(s) if you die?
That isn't a fun question to answer, but it's something to have in mind before you commit to a parrot. Even worse is the fact that social media will be happy to remind you of that. "We welcomed an African Grey to our family!" I shared one day on Twitter. Someone decided it was then their duty to scold me about the fact that said African Grey will probably live to be sixty, and that I needed to think about that. My response was that my parrots are written into my Will and there is a home waiting for them, should something happen to me in the foreseeable future. I will also change my Will accordingly, as necessary (i.e. if my daughter still expresses a desire to have our birds when she reaches adulthood).
More Birds?
So after being a bird mom for nearly ten years (which isn't a lot, but sometimes it feels like we've been a family forever), what's in my future? More birds. My daughter wants a bird. We've told her that we know they look like a lot of fun to her and we realize she's had birds in her home her entire life, since she just turned seven. However, we want her to be absolutely sure. If she still wants a bird when she's twelve, we've agreed on a cockatiel (not to be confused with a cockatoo).
She is also taking an active part in training our caique. She works with him on step up, step down, and his continued potty training, as well as treating him for good behavior.
I also want to add a medium to large macaw to the mix but, again, not just yet. Our home renovation needs to be completed first and then we would like to build an outdoor aviary. But I might be about fifty-years-old by then, and I'm not sure I feel comfortable committing to a bird at that point in my life. It won't be fair to a bird, unless we go for a much older rescue, which we're open to. Knowing what I know about parrots, I wouldn't get a baby again, simply on principle. But I'm glad we had Avery from his early days and wouldn't change a thing!
Having parrots is a lot like getting a tattoo. The first one is exciting and you feel a little rebellious for doing it. It's like a gateway into getting more and more. But, it's more like a cross between getting a tattoo and having children, because it's a living creature with needs and feelings. It's something you have to really think about, because meeting their needs is so important. Give yourself time to consider what it would be like, because your life will change once you enter parronthood.