One of my ex-husband's family mysteries is right there on his paternal side – who are the ancestors of John Goodwin Hawksley?
Thanks to my visit to NEHGS several years ago, and not enough hours spent looking through the Isaac Adams manuscript file (there are never enough hours – it is like being a kid in a candy store!), I found this wonderful document: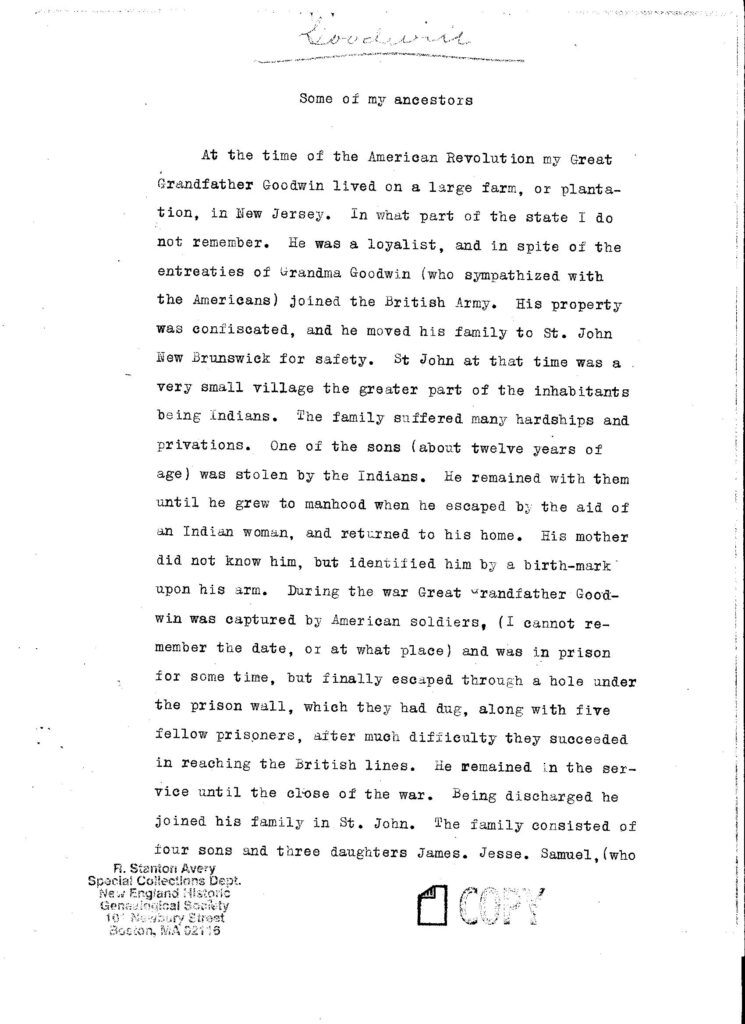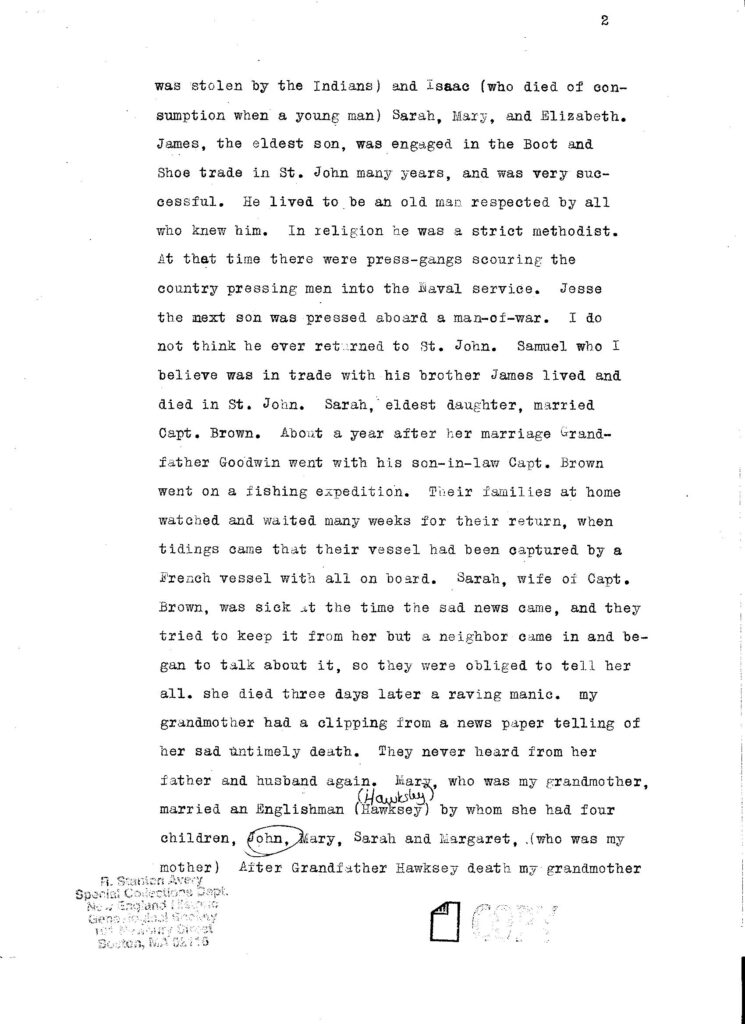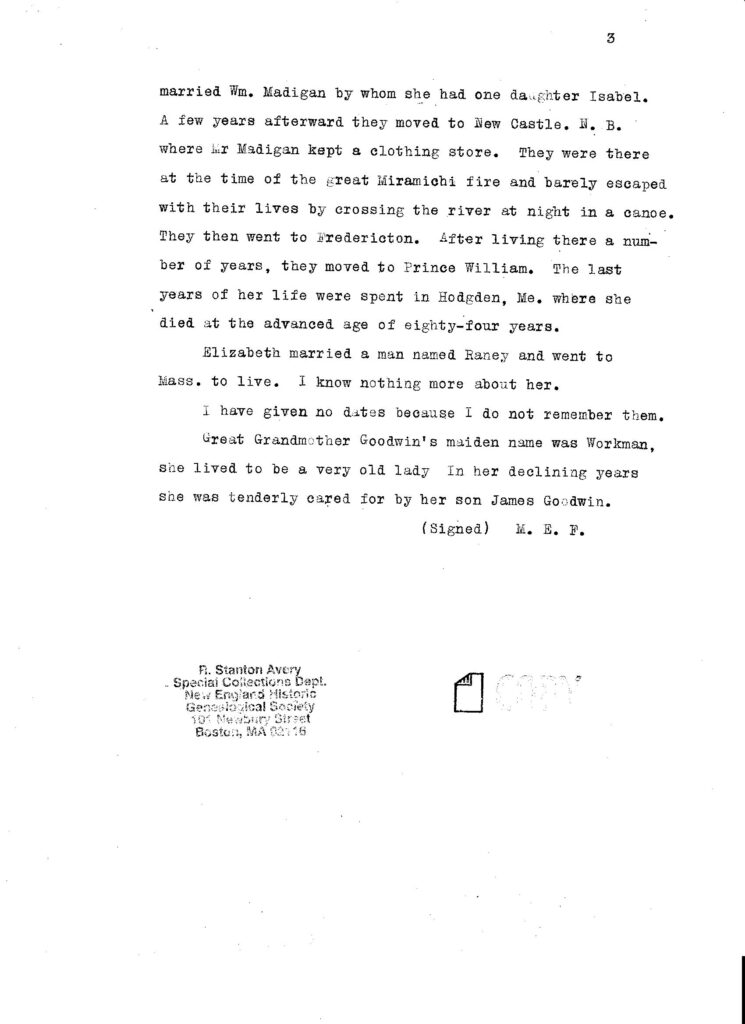 This is a document written by John Goodwin Hawksley's niece, Mary Elizabeth (Adams) Foster.  She was the daughter of John's sister, Margaret Elizabeth Hawksley, who married Isaac Adams (son of Isaac Adams and Rhoda Babcock).
The Adams family ended up in New Brunswick due to their Loyalist convictions, as did the Goodwin family – the ancestors on John's maternal side.
John's mother was Mary Goodwin. Her father was a Loyalist from New Jersey. We don't know her parents' first names; only that her father was, of course, a Goodwin and her mother was a Workman. We also know the names of Mary's siblings, thanks to this letter.
The letter mostly gives clues, but not much concrete information. I began piecing the Goodwin family together in hopes that working sideways would yield more information. Fortunately, I "met" a Goodwin descendant online, and she and I have worked together to create a fuller family tree.
However, the Hawksley question remains. This letter says simply that Mary Goodwin married "an Englishman".
I have guesses and ideas based on the area (Fredericton and St. John, New Brunswick) of why this Hawksley man might have been there. I think he was a British soldier, but I have no definite information. However, I also don't think they were actually married, which is another hypothesis entirely.
I know that Mary Goodwin, after having her 4 children, was married to William Madigan on 14 October 1824, placing Mr. Hawksley's date of death between 1816 (when the youngest child, Margaret was born) and 1824, or his return to England (or Ireland, in my hypothesis) in that time frame.
Thus far, death records have not given us the name of Mr. Hawksley (or the mother either – finding her was a lucky break based on my research at NEHGS and then connecting that to the 1860 census, in which Mary Madigan lives with her daughter, Margaret (Hawksley) Adams).
What's next?
Certainly, there are plenty of possibilities open, and most of them point to actually visiting Fredericton, where the 4 Hawksley children were born, In addition to on-site research, I think obtaining the service file for the hypothesized father might also help. The person who is currently the basis for my hypothesis was stationed in Fredericton during the time frame that Mary had her children. No Hawksley male, prior to John Goodwin Hawksley, left any records – no birth, baptism, marriage, or death, no court or land or newspaper records – nothing. It's not often that a male lives without leaving some kind of mark. So who was this elusive Mr. Hawksley?
Someday, I hope to know. For now, it's this one document found in a manuscript collection that answered at least one important question. Never underestimate the importance of these collections in museums and historical societies!