It seems I'm on a roll with sharing my thoughts in 2020! As it turns out, I'm also on a roll with finding Italian records. You see, I have two "sets" of Italian ancestors, both maternal. My mom's parents each have one Italian parent. And those Italian parents are from completely opposite "ends" of Italy.
This year, my focus is on my mother's mother's – or Nana's – family. We have some neat photographs of my great-great grandparents, Bartolomeo Giovanni Michele Galfré and Ernesta Maddalena (Pedemonte) Bergamasco. There is also a fantastic family history my Aunt Espezzia put together with two of her sisters. However, there are tidbits of misinformation in the family history, and it's still only part of the story of the Galfré and Bergamasco families.
After two solid weeks of research, I've learned so many new things that none of us knew, like the fact that my great-great grandma Ernesta had 3 sisters we weren't aware of, and that her parents actually weren't married until after they'd already had 8 children together. Thus, Ernesta often went by her mother's surname, Pedemonte. After her parents married, she then went by either her father's surname of Bergamasco or her husband's surname of Galfré, but only in U.S. records.
Furthermore, her mother was previously married to a man named Giacomo Spiazzi and Ernesta's eldest siblings were Spiazzis. We'd also been told that Ernesta had an uncle who was a bishop. Well… I've yet to find such a person, but through her half-brother Bartolomeo Spiazzi, she's the aunt of Catholic theologian Raimondo (born Aurelio) Spiazzi.
Of course, all this research has involved digging deep into Italian records, using a combination of the FamilySearch catalog to find non-indexed records and the Antenati website, for those records to which FamilySearch currently restricts access.
Here's a small reminder about why genealogists always strongly recommend you look for an original record or image of the original, instead of relying on transcriptions.
Transcriptions can be handy, but incomplete, such as this one for the birth of one of my distant uncles from the Italy, Imperia, San Remo, Civil Registration (State Archive), 1805-1910 database on FamilySearch:
Name: Vittorio Galfrè
Event Type: Birth
Event Date: 20 Oct 1895
Event Place: San Remo, Imperia, Italy
Gender: Male
Father's Name: Bartolomeo Galfré
Certificate Number: 402
I'm glad FamilySearch has this available, however they currently restrict access to the image of the actual record. Fortunately, the Antenati has the record, which looks like this: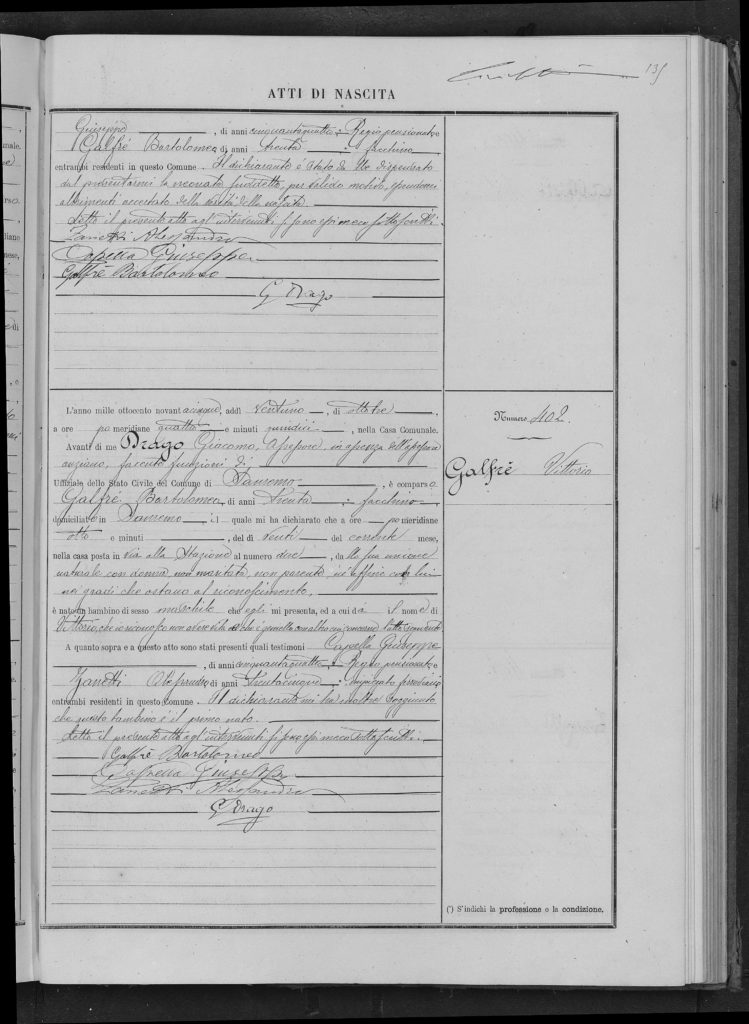 Why is the actual handwritten birth record superior? For starters, my Uncle Vittorio's birth record shows that his father (my great-great grandfather Bartolomeo) was 30-years-old and worked as a porter. From what we understand, he worked at the train station in Ventimeglia.
This record also tells you Vittorio was a "gemello" or twin. His brother, Emanuele, is on the next page. I'm sorry to report that both Vittorio and Emanuele died as infants. This seemed to also be a sad trend with their mother's mother, who had twins, one of whom died in infancy.
Another interesting tidbit is that Vittorio's parents, my great-great grandparents, weren't yet married! As I mentioned, the same thing occurred with Ernesta's parents. They took a good 20 years after her birth to finally marry one another.
I hadn't yet located a marriage record for Bartolomeo and Ernesta over weeks (actually years) of researching. Now I knew why. They weren't married in 1894, as we were told. I'd also put a great deal of time into trying to find a marriage record for them in their native towns/villages of Cuneo and Moneglia, respectively.
Now that I knew they were married sometime after the birth of the twins in 1895, I decided that perhaps they were married in San Remo, simply because of this record. After all, how far might they have gone between 1895 and 1896, when their next son was born, also in San Remo? Not far, it turns out, because I found their marriage in San Remo within about 30 minutes of finding the images of the birth records for their 3 sons born in Italy.
I never would have known from the transcription that Bartolomeo and Ernesta weren't yet married. Thanks to the original image, I was able to refocus my efforts and find what I was looking for!