March has been a month of adaptation, after losing our eldest cat, Shiva, at the beginning of February. Kobold, our cat of 12 years, seems to be coming out of her shell. She is less shy and skittish as an only-cat, and now more vocal and affection-seeking. Sometimes, we have good-natured arguments about who gets to feed her, brush her, or give her treats. Everyone in the household wants to shower her with extra love these days.
I feel like the months are flying by with how busy we have been. It would be nice to slow down a bit now that spring is here, and savor the seasonal change. I'm not sure that's in the cards for April, but I'm certainly going to try.
I sort of got my wish last weekend when my daughter tested positive for Covid. It was the first case in our household and mild. However, it also came up right before a birthday sleepover we were going to attend. Obviously, the first thing I did was contact the host and let them know we wouldn't be there. Then I took that weekend of nowhere to go and nothing to do, and binge-watched feel-good movies and funny TV shows, while I cross-stitched. Those two days were slow and leisurely and, since my daughter was also doing well, we were all able to enjoy the downtime at home.
Reading
I finished Undaunted Courage: Meriwether Lewis, Thomas Jefferson, and the Opening of the American West by Stephen Ambrose. This book taught me far more than they taught us in school. I now have a much better understanding of the scope of the expedition, and how impressive the undertaking was from start to finish. 
The Silent Companions by Laura Purcell started off well, but the "twist" at the end was predictable by that point and it didn't end as frighteningly as I hoped. But it still gave me some nice little chills in the first half. I would recommend it to anyone who enjoys gothic horror. I also read Half a Soul by Olivia Atwater. It is a sweet, magical regency faerie tale and I enjoyed every moment of it.
Finally, I read Spare by Prince Harry. As of this writing, I am about 85% through the book. I feel that it is decently written: Straightforward, succinct, short sentences, but with a lot of feeling.
Obviously Harry doesn't know what it's like to be someone living a truly hard life, paycheck to paycheck, wondering where food is coming from, if his electricity will be shut off, or dealing with a disability that keeps him from moving without pain everyday. But, for all the luxury and privilege he grew up with and still has, the trauma of losing his mother was huge. No one gets over that sort of loss, especially when you're young enough that your parents are your world, and old enough to be both very attached and cognizant of the circumstances of that loss.
Also, the royals are bizarre, to say the least. Their world is so fucked up. 
Harry is, of course, a product of that upbringing. We need to just let the guy and his wife and kids live their lives. The same goes for the rest of the people in the royal family.
W
e don't even know these people. As far as I'm concerned, all of them ought to be left alone.
Cross-stitching
In March, I completed the Nebraska Football State Silhouette from Simple Wave Studio. It is very cute and simple with just three colors and "Huskers" across the middle of the state at the widest part. It's one of two gifts for a local family. The next project is Tequila by Stitchrovia and it is adorable! It is also a gift, though I might consider stitching another one for myself.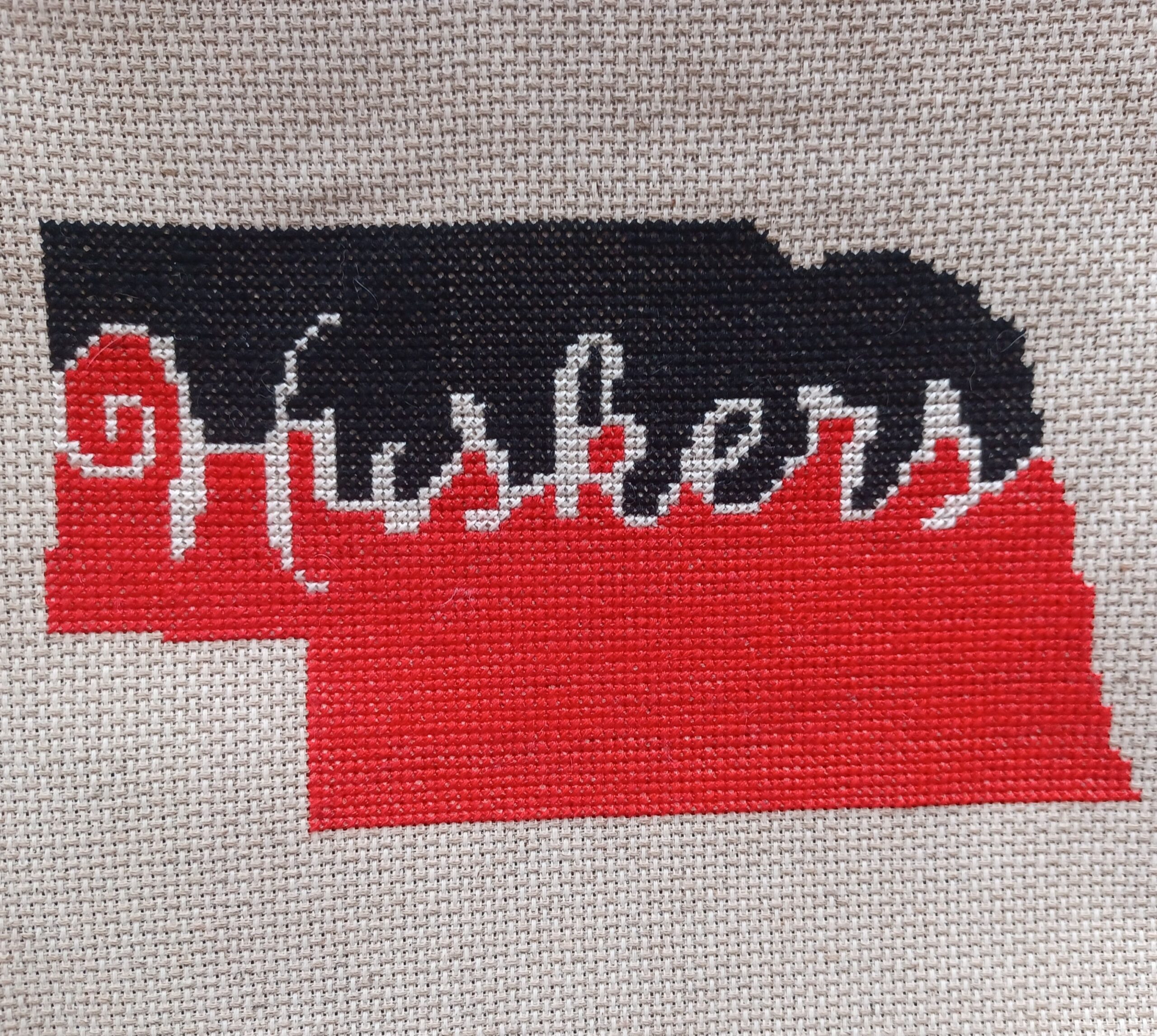 Gaming
My D&D 5e campaign continues to progress, this time with the party taking to the high seas to chase someone who may be behind the phenomena they have been told might destroy the world. I am also getting involved in a campaign with the Genesys system, so that should be fun!
Meanwhile, my significant others and I got back into playing Eco, with about 6 or 7 friends from our gaming Discord. It's been fun to play a cooperative game together, and full of silly shenanigans. Though I'm burning out more quickly on it than I did last time. I think because I'm focused on other things that are holding my interest.
My Pokedex in Pokemon: Scarlet is complete! My daughter and I played together in her Violet world, so I could catch Iron Valiant. I also finally caught a shiny after months of playing – though before I got the Shiny Charm, oddly enough! When I saw the Golduck with the pink-red beak and webbing running toward me, I screamed like I had just "won the lottery," as one acquaintance put it.
And catching a shiny is definitely all about luck!
Watching
I have to admit that I was disappointed with what happened during the Apogee Solstice in Critical Role, but diving into Chetney's past in the subsequent episodes and then the way the party handled the beast was a lot of fun. We finished Book of Boba Fett, which I enjoyed immensely, and then started on season 3 of The Mandalorian.
Meanwhile, I watched every episode of History of the World, Part II and Cunk on Earth. Alas, Part II did not have the same fantastic humor as the original, which happens to be my favorite Mel Brooks movie. It was amusing, good for a giggle here and there. Cunk on Earth, on the other hand, had me roaring with laughter multiple times with each episode.
Exploring
Our Spiral Scouts circle visited Fontenelle Forest in March for a mile hike. It was a chilly Sunday afternoon and only two families attended, but we had a good time. Besides the trail (we stuck to the boardwalk, but there are multiple other trails you can hike), we also checked out the educational area set up in the basement with birdwatching, lizards, turtles, frogs, and snakes, and then the Raptor Recovery enclosures.
So, Covid aside, I think March was a pretty good month!