Ah, November. The month when the holiday season really ramps up and, for some, causes more stress than usual. Thankfully, that's not how we roll here. Samhain (October 31) is what I consider the beginning of our winter holiday season, and Thanksgiving is a relaxing break from the daily grind. November was, for me, a damn good month. I finally got some much-needed downtime, and really savored everything about November.
Reading
In November, I read Red, White & Royal Blue by Casey McQuiston, one of the books on the "no-no list" of many Moms For Liberty folks and other similar people on a crusade to ban books from libraries. There is nothing objectionable in this book. The sex isn't graphic. Yes, it happens. Yes, the characters refer to it. But it's also such a small part of the story, that clearly the pearl-clutchers are intentionally ignoring the rest of a funny, sweet story to make… well, I'm not sure what point they're trying to make. These people really need to calm down.
I received my pre-order of Iron Flame by Rebecca Yarros, but didn't get very far because other books – borrowed from friends or the library – kept coming my way. So I prioritized the borrows. I'll get back to it before the end of the year, I hope!
Cross-stitching
I finished Stay Gothy by Grandma Be Wildin. She's such a cute goth Morton's Salt Girl, and I stitched her on Picture this Plus 14 count Aida in Dawn. The are a few things that I changed. I changed "Gothy" to "Salty" and left out the backstitching.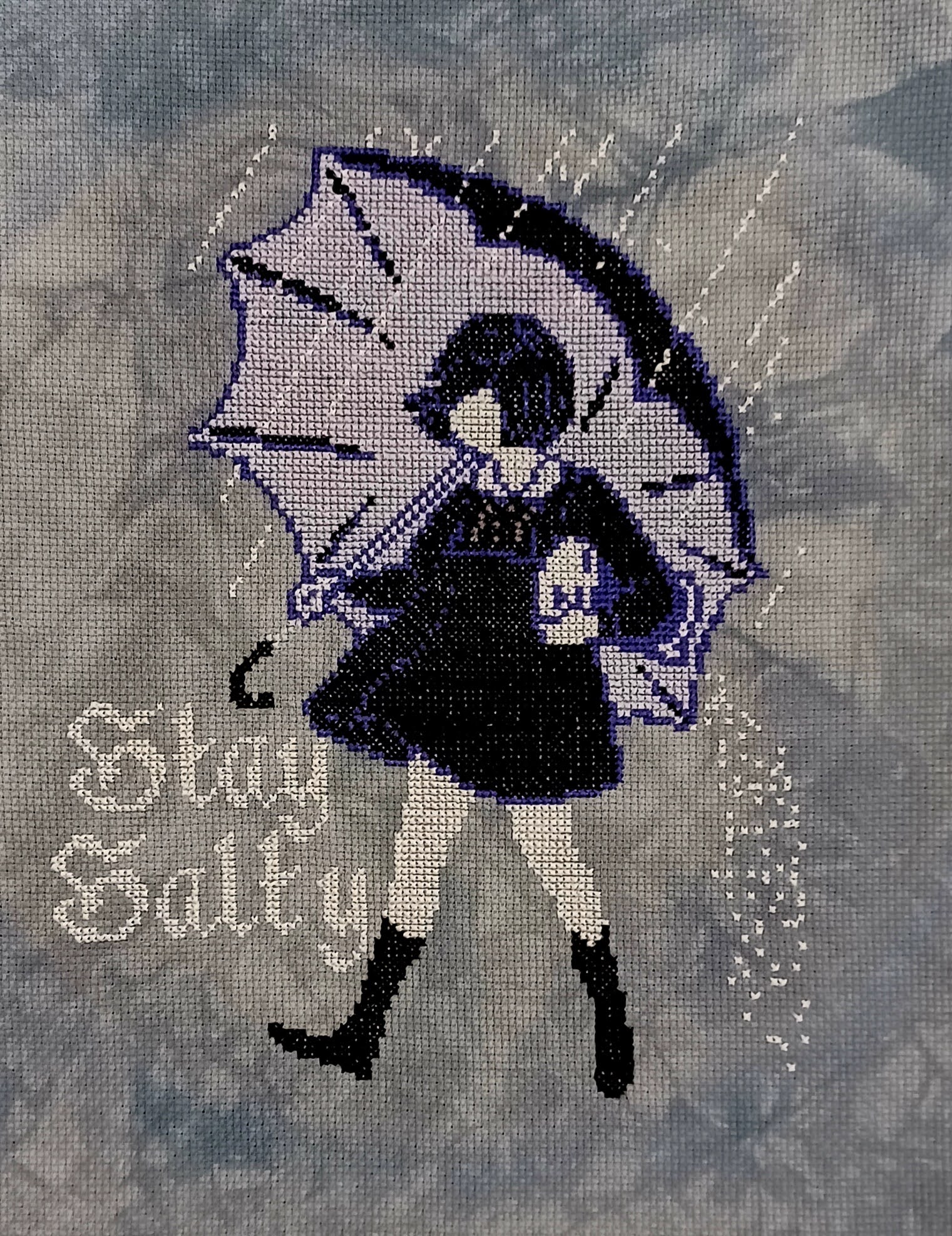 It's absolutely adorable and I love her. She just needs the perfect frame. Now I'm working on the Ouija Board by the Witchy Stitcher.
Gaming
There was much less gaming throughout November with the holiday weekend and work commitments. I think once January comes around, we'll get back to regular sessions of all three games.
Watching
In November, I spent a weekend watching the first part of the final season of The Crown. At least, I think it was November. It may have been the first Saturday or Sunday of December, considering how perfectly relaxing and low-key both weekends were!
Exploring
November had the slower pace I wanted so much. I also volunteered at the Scholastic Book Fair for a day, and that was a lot of fun. It was a little daunting, because I got conflicting instructions on how to check out books for teachers. But I would really like to do it again and get better at the whole process. The person who manages everything about the book fair has been doing it for years and told me she's looking for a replacement. At the most recent PTO meeting, I offered to be that person. That, however, is a task for the new year!
For now, I hope for more of the same in December – quiet and cozy, with delicious holiday food, family time, and finishing various projects. 2024 is a job for future Wendy.