Right? RIGHT?!
This has been me for my entire adulthood. At least, until last year when my husband and I finally decided to get a handle on meal-planning. If you're the same way, flailing at the grocery store or home about what to eat, here is one way to make it much easier.
Create a Spreadsheet
We created a spreadsheet with two tabs – Month One and Month Two. The plan has four weeks per month, and we don't fret too much about a week five.
Each week has meals planned for Monday through Sunday, with a hyperlink to the recipe. When it's time to place my grocery order for the week, I work off a handwritten shopping list where we write things that are low or we've run out of, and then the recipes that are linked for the week. It makes placing my grocery order so much easier!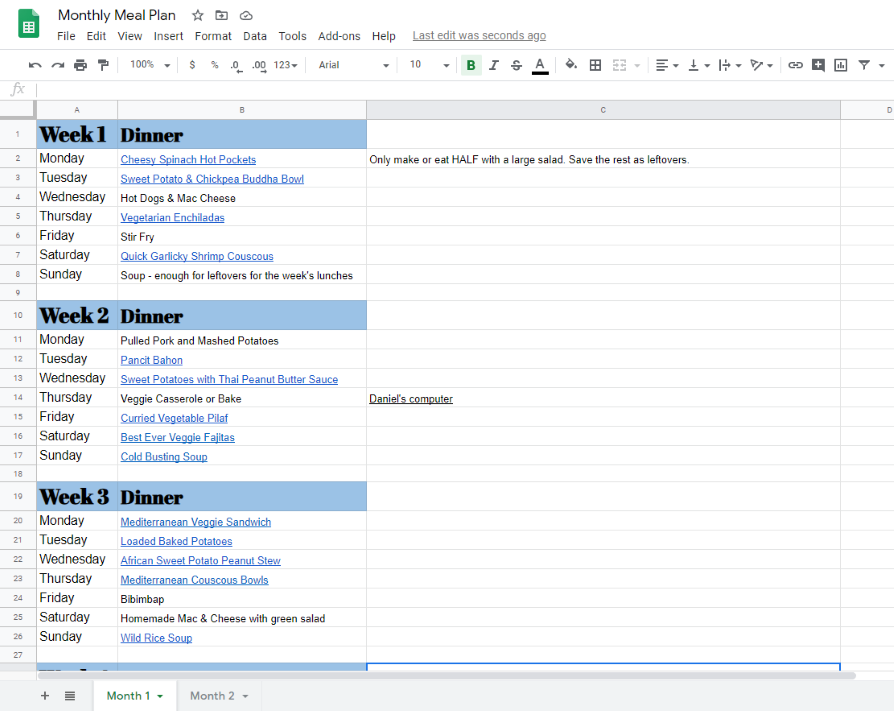 That's all there is to it! We started small, with the things we normally like to make, and slowly filled in the weeks as we found recipes we liked. It took time, so I want to emphasize that you don't need to feel like you have to fill in the entire two months, or one month, or even every single week!
Start with what you're accustomed to cooking. It doesn't have to be anything fancy. If your first week is hot dogs, hamburgers, fried chicken, and spaghetti, so what? Just put the information in there.
Then think about how you might want to space out your meals. Are you looking to add more vegetarian dishes? More seafood? Lighter meals?
Google is your best friend. Enter the search terms you want and get started. For example, I find myself looking for new recipes often and my searches are always driven by the season. Summertime usually means I'm looking for "light summer meals" and winter puts me in the mood for "comfort food" or soups or stews.
It's also important to think about who is doing the cooking. My husband cooks five nights a week. I only cook on Saturdays and Sundays. So I like to make sure he has a balance of "easy" days with the more complicated meals. There's also the option for frozen pizza at all times. Not as delicious as homemade, but sometimes the primary cook needs a break!
I like to have soup as a weekly option, because it usually makes plenty of leftovers for me to bring to work throughout the week. I also have tried to group certain foods together, so some weeks might include more sweet potatoes, for example, or more beans. It makes the shopping even easier.
But there's no need to get that complicated or detailed from the get-go. Start with what you know, figure out what you want to eat, and then start adding recipes little by little.
For me, it's just nice to open the spreadsheet on Friday night, and do my grocery shopping off it from the comfort of my own home. And I never have to ask, "What are we having for dinner this week?" 🙂