Playing an RPG is fun. You get together with friends around a table with character sheets, dice, and pizza, and spend 3 or more hours pretending to be someone else on an adventure.
Or you do it online from different states thanks to Discord and Roll20… and also broadcast it for the entire world to see, if they're so inclined.
I wear makeup almost every day, but when it comes to gaming time, I need to turn it up to 11 since we're on a stream. There are a lot of reasons for this – bad lighting, cameras that don't really enhance, and then certain things that look better on camera than others. For example, never wear red because even if it's a good color for you, red is known to "bleed" and may also make you look super pale, which isn't flattering.
The makeup I wear on camera is very different than what I wear when I leave the house. Daytime makeup for me ranges from a coat of mascara to look slightly "done" to my entire face – primer, a touch of foundation below my eyes, power, bronzer and highlighter, eyeshadow, eyeliner, mascara, and lip gloss. I usually keep these colors neutral or use one strong color, at most.
When streaming our D&D, Star Wars, and other games, however, I don't want my features to fade. So here's my gaming "look":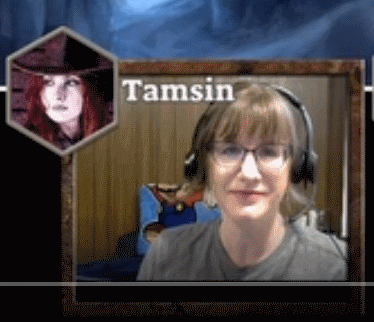 As you can tell, I don't have the best lighting and if I didn't do anything to my eyes and lips, they would probably be unnoticable. Also, because the light is directly on my face, I like to make sure my skin tone is even (not usually an issue, but I'm a perfectionist when it comes to the possibility of people watching our gameplay).
It's very similar to being on stage – neutral colors just won't do. When I was in drama, we always had to use a heavy hand with our makeup, and that's what I do on Saturday nights for gaming. I joke that I have to "get tarted up" but, honestly, no one can actually tell that I'm wearing a lot of makeup. On the other side of the stream, I look normal. But the extra layers of cosmetics are to thank for that. Here's how I do it:
Primer – after I shower and use a light moisturizer and eye gel, primer is a must. My usual day-to-day primer is Smashbox Photo Finish, but for gaming, I use Yensa color + face Tone Up Primer Essential Glow. I like Smashbox, but Yensa? Yensa is love. It has that something extra, so I save it for special occasions, like conferences, parties, and gaming.
Foundation – I usually don't put this all over my face, except on game nights. Maybelline Fit Me Matte + Poreless in Classic Ivory is my go-to. I follow it up with pressed powder from the same brand and product line, except in Translucent, though I use a brush to apply the powder – never a puff.
My favorite thing to play with is eye makeup, so I start with Sugar Arch Arrival Brow Definer in Taupe Tom. My brows aren't overly plucked or waxed or anything. I just keep them tidy and natural, so the bit of brow pencil adds a little darkness and definition, and helps "frame" my face.
I normally go for Space Case eyeshadow in Messy Lochnessy. It's a beautiful, medium evergreen with a golden shimmer to it. While I will wear it during the day, too, the way I apply it for game nights is different. During the day, I just sweep on a layer or two of eyeshadow and call it good. For game streaming, I draw a bit of a cat eye on the outer parts of both eyelids to define the edges of my eyes.
If I use a lighter-colored eyeshadow, eyeliner is a must for me. I always use black for games. Regardless of the eyeshadow color and/or eyeliner, the next thing I use is highlighter. Ciate London in Moondust gives a crazy-strong glow, so use it sparingly. Because it's pretty powerful stuff, I use it only on my eyes. An angled eyeliner brush gives me the perfect amount to highlight the inner corners, as well as line my eyes, if I want. I also will use it just below my eyebrows.
Of course, I finish off with mascara. Normally, I keep it light, but some nights I will go for thicker, darker lashes. My absolute favorite mascara (and makeup line, honestly) of all time is Pixi by Petra Lashlift. It has a wand within a wand. I use the skinny wand everyday for lash definition, without thickness, but sometimes on game nights, I'll use the chunky wand for volume. Of course, I always, always, always comb my lashes out. No clumps allowed.
Once eyes are done, I dust a bit of blush or bronzer, depending on my mood, season, eyeshadow, etc. just on and below my cheekbones. Then, I follow it up with a swirl of highlighter on my cheekbones and blend. I use the same brush to swipe some of the blush/highlighter blend down the front of my nose and across my chin.
All of this work gets me even skin, defined features, and a nice glow. And while I would normally balance out dark or smoky eyes with a neutral lipstick or gloss, I go strong on the lips, too. I actually prefer clear or shimmery glosses, but game night calls for some of the darker stuff, usually Ciate London Liquid Velvet in Pin Up or The Balm Creamy Lip Stain in Salut!
When it's all said and done, I have layers of obvious – but blended – makeup on, something I would never do if I was going out in public. But the camera reduces that and, instead, shows the world a defined, polished face. That's all I want and I enjoy the work that goes into getting myself camera-ready. 🙂