Until last week, it'd been anywhere from 4 to 10 years since I last saw family. That was because I ended up in Korea and then England, and then in Nebraska, none of which are anywhere near my family. The closest family when we returned to the U.S. was my sister, brother-in-law, nephews, and nieces, so we did enjoy some brief visits after we got back to the states. But there were so many other family members and friends I hadn't seen for a long time prior to that.
Fortunately, my sister provided the perfect opportunity for a visit by renewing her vows with my brother-in-law, so off we went to Massachusetts! 
We drove, which was exhausting, to say the least. And we camped, which doesn't exactly offer restful sleep, but my husband and kids had never gone camping. My daughter was too keyed up to sleep, so we got to listen to her sleeping bag rustling all night long. Yay. But at least my husband made the most delicious campfire dinner and breakfast!
Once we arrived in Berlin, New York, the fun really started. First, we stayed with my grandfather's first cousin. The one and only time I saw her, I was maybe six or so, and I certainly don't remember meeting her. So seeing her now that I'm in my 40s and she's in her 90s was really a treat. It was such a privilege to meet her and her husband, to sit and talk, and get to know them. They are lovely people and were such gracious hosts. 
My kids loved meeting them, too, and exploring the land their home is situated on. We got to see plenty of fun wildlife on the mountain where they live, and the sugar house where they make their own syrup!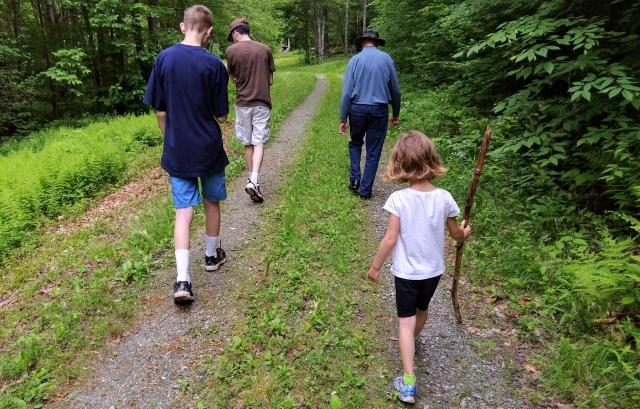 Meanwhile, driving through New York allowed us to see the Great Annual Traffic Barrel Migration. We also encountered this phenomenon in Indiana. Those little guys sure do get around!
Getting on the Mass Pike made me happy and I started pointing out various towns to my husband, telling him all about them as I drove. I was in for a strangely rude awakening when I realized toll booths were gone! I spent so much time building up the transition from the Mass Pike to 495, that I felt a little cheated out of the massive line of toll booths that used to be there.
Once we crossed the Bourne Bridge, though, it didn't bother me so much anymore. Because I got to see my paternal aunt and uncle, whom I hadn't seen in far too long. Once again, it was a wonderful visit, my concerns for my aunt's health notwithstanding. My uncle was very generous with fun Cape Cod souvenirs for the kids.
I'm so glad I got to see them. Even though it's clear my aunt has dementia-related memory loss, as my grandmother/her mother did, I'm still happy we made the visit. My aunt and uncle were always a fixture in our lives, often visiting for Christmas or summer break with my three cousins. I have fond memories and am grateful we remain in touch, even if it's via Facebook these days. It would have been even nicer to see my cousins, but this is the year we're all ending up in Massachusetts at various times of the summer. 
The next morning, I brought my husband to see Nobska Point Lighthouse at Wood's Hole. As far as he was concerned, it wasn't a proper Cape Cod visit without seeing a lighthouse. He'd never been to New England before, so I was more than happy to oblige him.
We enjoyed a walk along the beach in Falmouth and picked up a few shells, something my daughter couldn't wait to do. Of course, I took plenty of photos and pointed out various sights to my husband. This also brought up our ongoing debate about where we want to spend the rest of our lives (he says Cancun, which I complain is too hot; I say Martha's Vineyard, which he complains is too cold… and expensive).
Our action-packed week wasn't anywhere near done, because then it was off to my sister and brother-in-law's house to prepare for their vow renewal. I had the honor of officiating, while my daughter served as flower girl. My mother, aunt, and Nana were all there, as well, making it yet another reunion. There were other folks there I was happy to see, of course, like my best friend from high school and my sister's best friend since they were in elementary school together. We had a great time, my daughter enjoyed wearing a fancy dress, and it was wonderful to see my sister and brother-in-law get the party they deserved. Their love story is pretty darn epic. <3
The next day, all of us managed to get up bright and and early, and visit the stables where my sister, brother-in-law, and niece all ride. They own a lovely horse, so we met him and then my daughter got a pony ride. After that, I saddled up and it was great. I get on horses whenever I can, something I've done since childhood. Even my husband was convinced to get on and try a walk!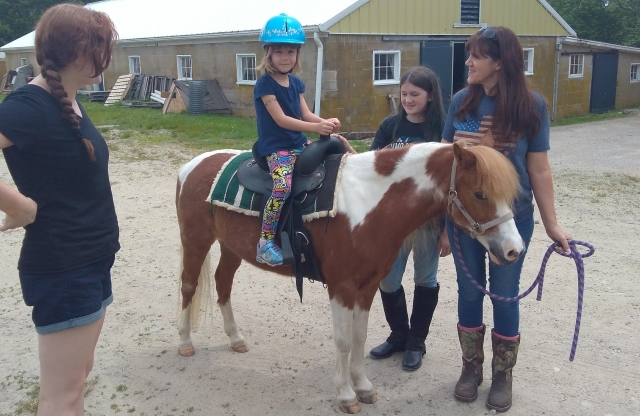 Back in my sister's neighborhood, we visited their private beach. My husband, daughter, and niece spent their time catching fiddler and hermit crabs. Being the old ladies we are, my sister and I had more fun watching a loon swimming, diving, and catching something to eat.
We were out of there the very next day, since we gave ourselves 2 1/2 days of driving each way. Oh yes, just not long enough to really spend time with people, but we had our moments. I asked my husband what he thought about Massachusetts and he summed up his impression of it in one word: traffic.
Where we live in Nebraska, there's very little traffic. For example, a "highway" bisects our neighborhood from the town where the kids' school district is. We could come to the intersection and sit there, waiting for 5 cars to pass, while my husband complains about "traffic." Time and again, I told him, "Oh honey, you ain't seen nothing yet." Well, he's seen it now! And the worst of it was the Bourne Bridge. We didn't even go anywhere near Boston. But from Wood's Hole to Lee, Massachusetts, it was definitely wall to wall traffic. That's just the nature of things where I grew up.
The first night traveling back home, we camped just outside of Erie, Pennsylvania. It would have been a less eventful night overall, than our first one camping, if not for the tornado that hit our town back home! 
It started with an email showing I'd been tagged on Facebook. Since I don't have Facebook on my phone (and refuse to use it, thank you very much!), I didn't really get any context. The friend who tagged me also texted to ask if I was okay. Of course I was okay – I was in Pennsylvania! So I responded and asked about her concerns. She explained that there was a tornado hitting our little town. I told my husband and we waited a long, nail-biting hour to hear from our pet/house sitter after communicating with her about it. Thank goodness she was able to tell us everything was okay after the storm hit!
Well, that freaked us out so much that we decided to head straight home the next day, instead of stopping in Iowa for another night of camping. So there we were, weary, beyond exhausted, and pushing onward to Nebraska from Erie, Pennsylvania. We did about 15 hours of driving in a single day. It was worth it to get home, though, and it came with a priceless realization.
As much as I love Massachusetts, the state where I was born and raised, and where all my little quirks (like saying "wicked") comes from, I'm absolutely in love with Nebraska's wide open spaces, endless skies, amber waves of grain, and rolling prairies. Will I go back to visit Massachusetts any time soon? The answer is that it depends on my time, money, and energy.
But I'm not pining for it the way I once did. Massachusetts is in my heart, but I'm in Nebraska to stay.